Choose to be creative this year!

Art Class
"Creativity takes courage" - Henri Matisse
Choose to be Creative this Year

Welcome to Art!

Through the four domains of Art, Art Production, Art Criticism and Art History, I hope to develop the creative thought process. An effective artistic background actually enhances the student's ability to think.

In art we are not looking for one correct answer, we are looking for all possibilities.

This ability to think along a variety of paths will undoubtedly be utilized later in life in many ways no matter what field the student chooses. I also hope to teach my students to enjoy the act of creating art. There is a satisfaction that accompanies visual self expression and it must be experienced to be fully realized.

The Art courses are designed to help students create aesthetically satisfying visual expression, and to increase their understanding and enjoyment of the work of others. Originality and creativeness are stressed. The assignments are so designed as to encourage a greater sense of awareness of environment, and free play of imagination and feeling. A wide range of media and processes are introduced. Elements of Art, Principles of Art are studied and applied. Subject matter is also varied in order to create many different kinds of experiences.

Creativity,
Mrs. Farina



Avalon Elementary School Projects






See some of the projects we have been working on.





Art Museum Virtual Tours
Visit art museums from around the world!


How Well Do You See Color?
Test your color vision online!

Art Club Dates
2016 - 2017

Stone Harbor
Tuesdays
Nov.29- March 28
(3:30- 4:30)

Avalon
Wednesdays and Thursdays
Nov. 30th - April 6th
(3:15- 4:15)


Powered by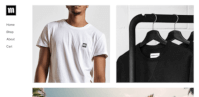 Create your own unique website with customizable templates.